In rural France a homemade pesticide turns workers and townspeople into aggressive zombies. These zombies don't want your brains, but they definitely do want you dead. They'll stab you, hit you and even crucify you on a door.
The Grapes of Death (English title) follows Élizabeth, who, while travelling cross-country to visit her fiancé, abandons the train she is on after a crazed zombie murders her friend. The rest of the film tracks her through the countryside trying to work her way to her fiancés vineyard where he works. On her way she meets many zombies and a few fellow survivors.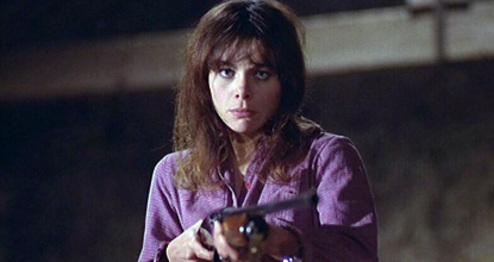 The zombies themselves are gruesome; blistering skin, leaking with puss and blood. Rollin pulls the camera in often for close-ups of the infected and uninfected alike, capturing their serene despair in life and death. Sections of the film were filled with clear (erotic) religious imagery and to me, a commentary of occupied France during WWII.
I was surprised by the praise of others online; ultimately the film failed to impress me. It was unambitious and slowly paced despite its short runtime. To its credit, the beheadings and wounds are properly and suitably gruesome.